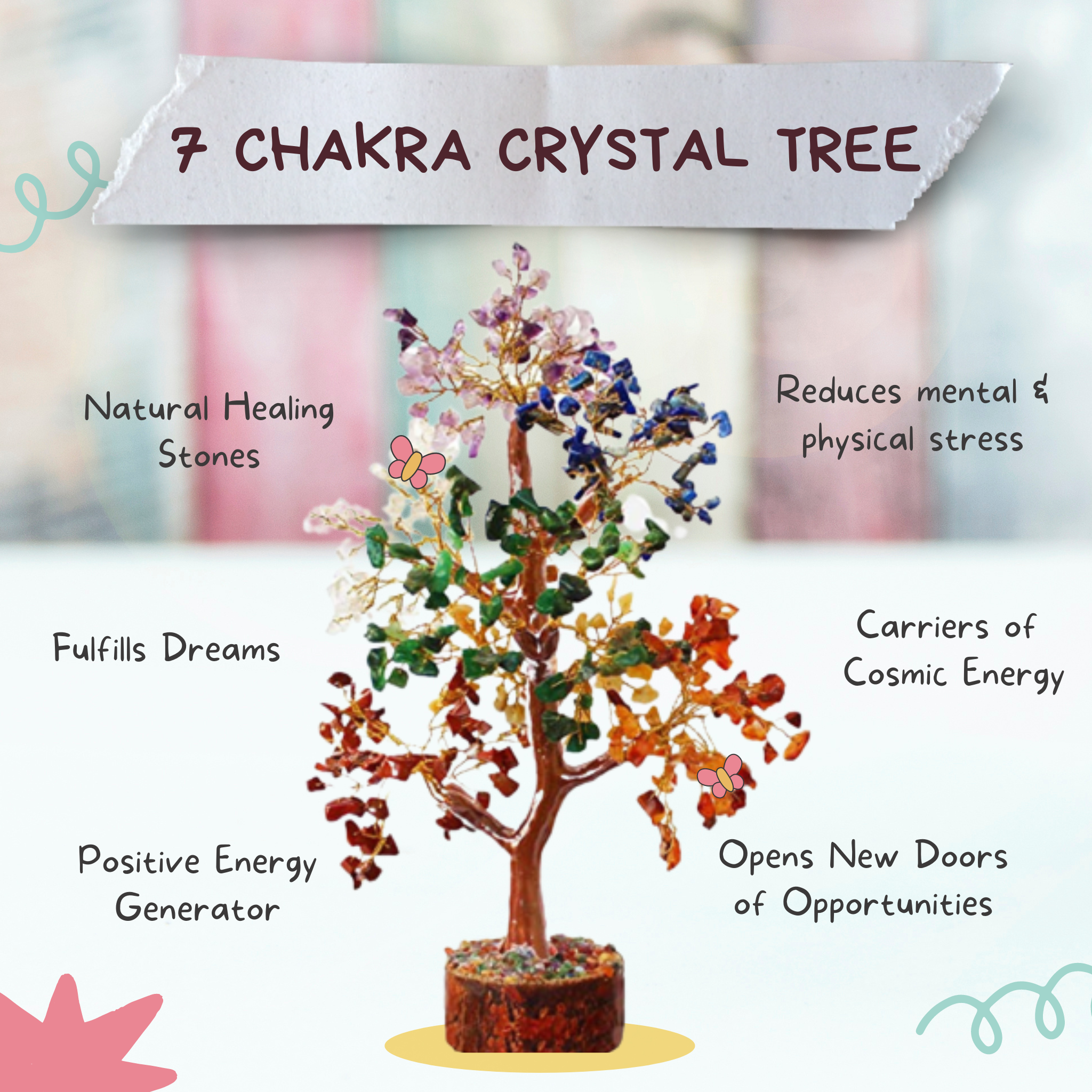 TREE FULL OF PURE CONSIOUSNESS
51 Pyramids
"TREE FULL OF PURE CONSIOUSNESS"
All of you, I assume are aware of the powers of crystals and their energies, if not, kindly go through our previous blogs. What if you get one thing which consists of all the important crystals and their powers within itself? Some of you might have used 7 chakra crystal pyramid and have experienced its tremendous energies, similarly, there is one pretty Crystal tree, which is one of the beautiful and best gifts which you can gift to your dear and loved ones.
CRYSTAL TREE is the tree which consists of 7 important crystals which are associated with our chakra's. It is made up of natural crystals which emits energies and shines naturally with its original beauty. Why only 7 crystals? It's because, these 7 crystals are associated with your 7 chakras, each crystal works for each chakra.
If there is any energy imbalance in that chakra, the crystal associated with it, will work for that chakra and balance it, provided if you are regular meditator. Crystals such as Amethyst, blue aventurine, lapis, green aventurine, yellow aventurine, red jasper, red aventurine etc.
These crystals work for Healing, reducing mental and physical stress, carries cosmic energy, fulfills dreams, spreads positive energies around, open new doors of opportunities. Well, all what you are looking for is here in this beautiful crystal tree!!!
Crystals carries universal cosmic energies with it, which helps us to bring mental, spiritual, emotional, intellectual and physical balance. It helps us doing spiritual work, provides soul upliftment, removes negative energies, giving high vibrational energies wherever it is placed.
Crystal tree cleanses our chakra, awakens our intuitions, attracts wealth, good health, prosperity and success, increases life zest, raises self-esteem and self-confidence. There are many other benefits crystals have, also this crystal tree is a beautiful piece which you can use as a decor.
If you are a regular meditator, all these crystal benefits will work three times more giving you a great positive impact for life. The best thing is that be it any occasion, festival or anything, we always make sure that whatever we gift to our loved ones, it should be most reasonable, usable and the one which they treasure for life. Crystal Tree is the right choice for gifting, as it adds value, meaning and upliftment in yours and others life. Your search for meaningful and beautiful gift ends here!!
Why to wait, Christmas is coming, Is your gift ready???
We already have it for you!!
"Jingle bell, Jingle bell, jingle all the way, blessings are coming along with crystals on your way"!!!!
For more info, write to me at info@51Pyramids.in